ECM
Take control of your content lifecycle!
Digitalisation, storage, make use of and archiving your data.
In the space of three years, an SME generates an average of one million documents.
How do you classify, organise and use this data?
How long should you keep it? How can you guarantee the authenticity and veracity of the document?
Does it contain sensitive or confidential information?
These are the challenges facing companies today and Coexya can help you stay in control throughout the whole project cycle:
Consulting, studying and framing of your project
Designing and implementing solutions
Maintaining third party application maintenance and supporting changes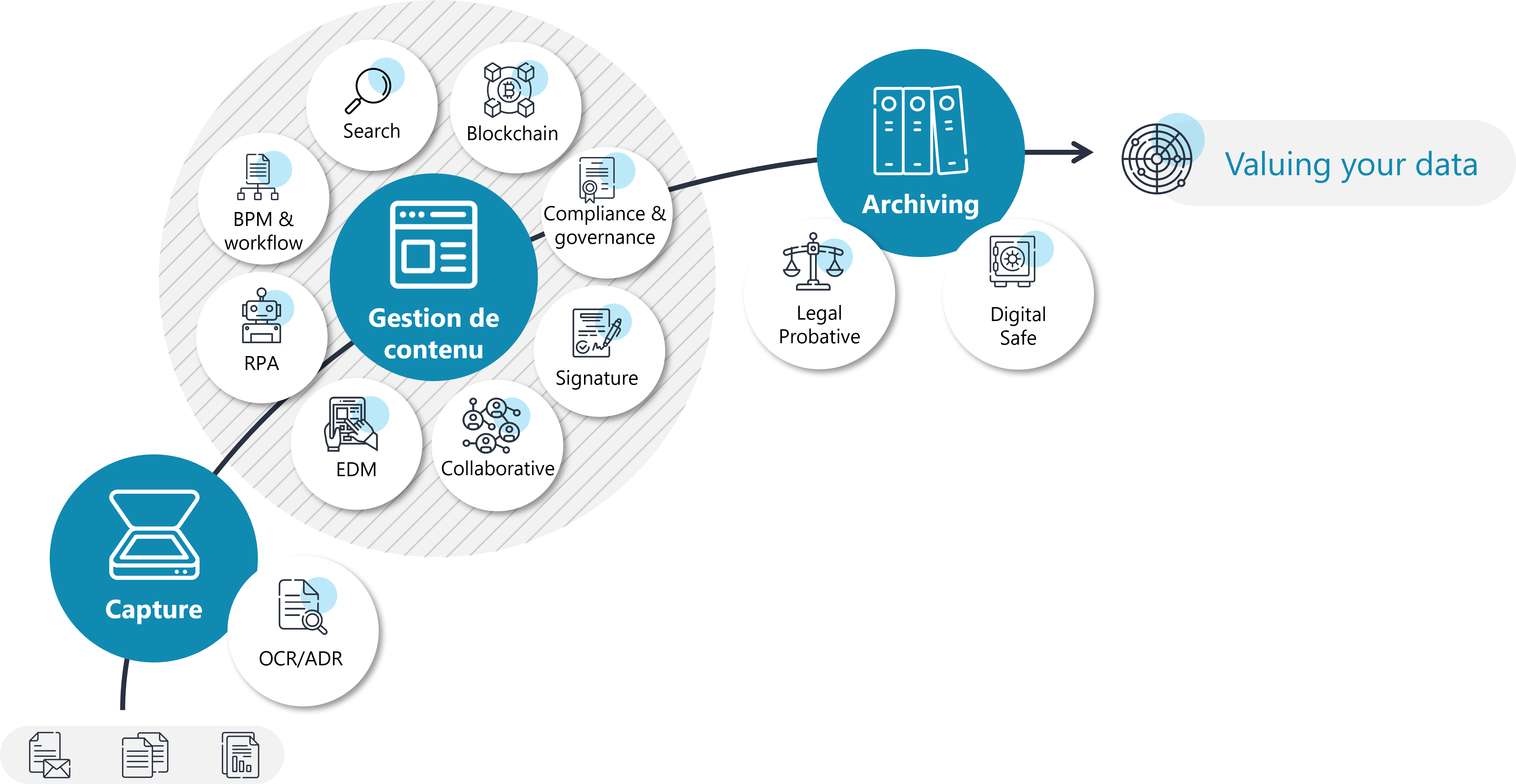 Consulting and support
Our teams' content management experience and specialisation means we can work on high value-added consulting projects:
Defining the master plan and road map associated with the digital transformation process
Supporting your choice of solutions (drafting specifications, support during the tendering process, scenario evaluation and comparison, etc.)
Project management assistance throughout your implementation project
To guide you, our consultants use the following practices:
Work carried out based on a proven method – framing, understanding and building your project, but also advising and supporting you throughout the process.
A method of working that guarantees results, including regular monitoring of the project's progress
A team of experienced consultants who ensure constant communication throughout the project
Setting very regular milestones and deliverables for each phase.
The +:  A pragmatic consulting process based on feedback from our previous implementation projects and involving operational consultants (Project Directors, Project Managers or Functional Managers for ECM implementation projects).

Capture and digitalisation
Facilitate the integration of your documents and content into your IT system.
Digitalisation aims to replace paper documents with electronic documents.
Capture is the process of acquiring electronic document flows (emails, files, attachments left on web client accounts, digitalised paper documents, etc.)
These ensure the quality of the information on the content managementsystems and make it easy to use for users as part of business processes.
The +: Go 100% digital by certifying your project with the Z42-026 standard, so you can produce 'faithful copies' of  your paper documents.
Content management, EDM & Workflow
Continuing on from capture systems, Content Management solutions provide the functionality necessary to carry out business processes involving any type of documents (pdf, xml, docx, ppt, etc.), emails and media (photos, videos, audio, etc.).
An efficient content management system gives a company numerous services that make their operations more efficient:
Accessing documents and information via a search engine or business classification plan
Viewing files (metadata and content)
Complying with security policies and access rights
Executing business processes
Collaborating, electronic signature & Blockchain
Compliance and document governance
Our teams are organised into competence centres and create and roll out software solutions to your IT system. They can adapt the software to your needs and support you until you achieve full customer satisfaction.
The +: ISO27001 certification, the industrialisation of the roll our process (CI/CD) and use of agile methods allow us to secure complex projects for our clients.
Electronic archiving
In addition to EDM solutions, SAES (Electronic Archiving System)  is targeted towards the long-term conservation of documents.
Due to their compliance with French (NF-Z042-13) and international standards, these tools preserve the legal and evidential value of archived documents, whether they come from an EDM or business applications.
SAE solutions also enable native compliance with GDPR guidelines.
To make sure your project succeeds, our experts will help you define the organisational and human considerations in your plan:
Defining document catalogues, rules and retention periods
Defining document processes, procedures and associated responsibilities
Solution uptake and change support throughout your project