Search
Search engine solutions
Roll out a search solution to aggregate data from heterogeneous sources and provide a single point of access to information under the best performing conditions.
Expert in search engine integration
For over 10 years, search engines have been at the heart of our architectures for coupling structured and unstructured information.
We roll out different search engine solutions depending on our client's needs and technical environments to aggregate data from heterogeneous sources, and provide a single point of access to information under the best performing conditions.
We are in the position to implement web search engine projects such as enterprise search engines or cognitive search engines with advanced processing of structured and unstructured information via Automatic Natural Language Processing and Machine Learning components.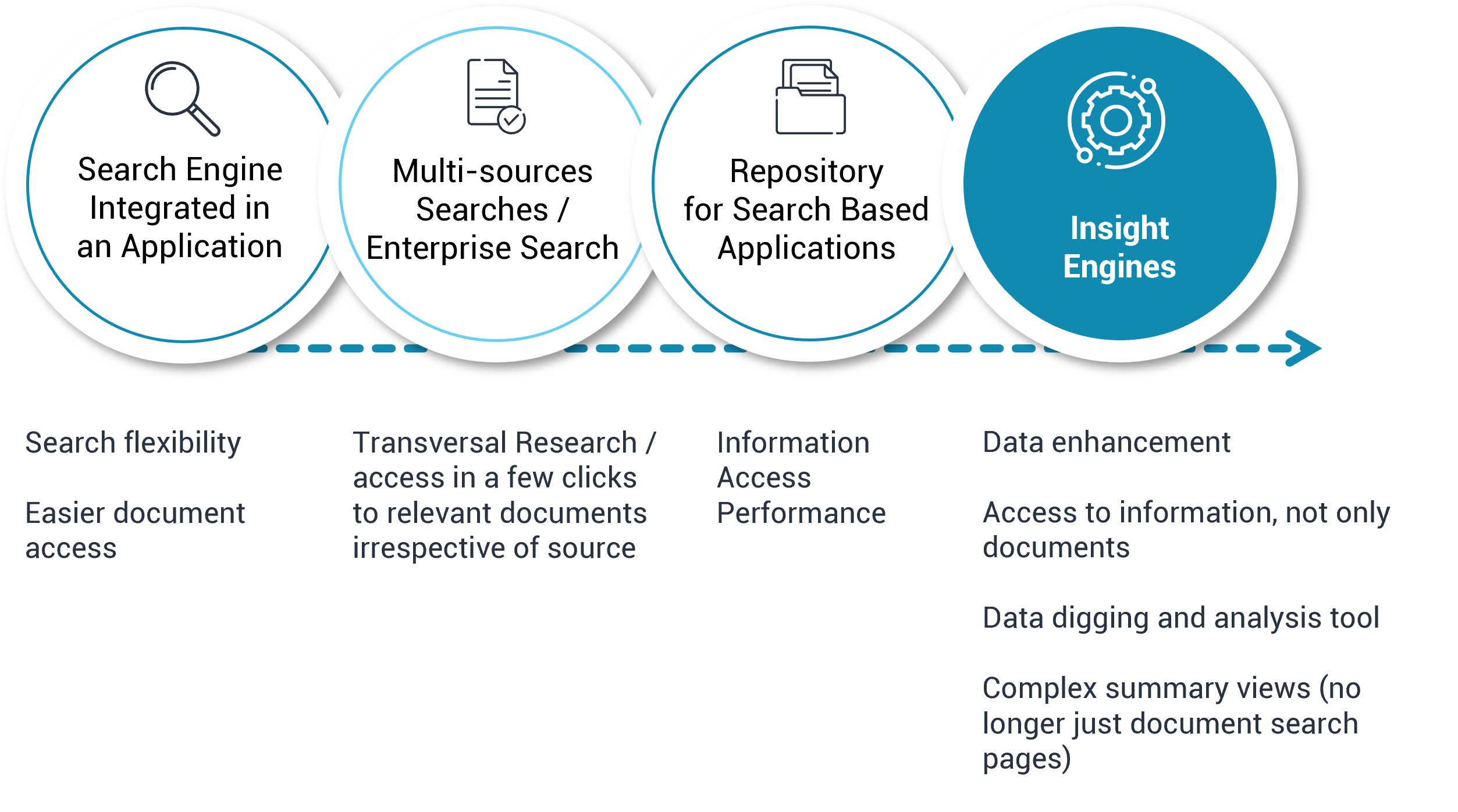 Growth in the Cognitive Search sector
We have worked on the technological evolution of these tools that have now gone far beyond the simple use of document search to use in advanced use cases: synthetic views such as 360° vision, technical and competitive intelligence, expert search, dashboards using structured and textual data, etc.
We implement search tools that help rapidly access relevant information via a single point of access to documents from several sources.
Identify similar documents (related, versions, duplicates)
Linking content to promote bounce back between related documents
Synthesise information via business-oriented views that summarise the main information and allow the user to drill down according to their needs and user profile
The objective in rolling out these search engines is to promote access to information, whether structured or not, and to transform data graveyards into unified searchable knowledge bases.
NLP, AI, and Machine Learning integration
The data indexing chain now integrates advanced text analysis components (Natural Language Processing), content classification (machine learning models), and similar document detection to move these platforms up to a new level of intelligence and extract useful information from raw text.
Gartner's presentation of search platforms as Insight Engines comprehends the technological evolution from document search to recommending useful information to the user.
What we do
We support our clients throughout the various stages of their project, from the upstream phase of studying use cases and the technical environment to recommend the most suitable solutions for their needs, to the implementation phase of the search portals, and on to the maintenance of our projects.
Our knowledge of the sector and project experience give us the platform to act as a consulting integrator, guiding our clients through key success factors in the rolling out of a search engine, whatever technologies are used.