Kami
The KAMI software suite for all your e-publishing communication needs
The KAMI suite is a range of products developed by our teams for the management of your electronic documents and to get the most out of your customer communication.
Quality, adaptability and speed are the hallmarks for effective communication that makes you stand out from the crowd. Over the past 20 years, our teams of experts have been guiding our key account customers throughout the process of introducing e-publishing communication solutions. 
Our KAMI software suite is the result the feedback from our customers and partners over this period. This software accompanies the leading tools in e- document publishing on the market so that you can meet the challenges you encounter in the day-to-day management of your communication media. They aim to:
Facilitate the maintenance of your documents
Facilitate the migration of your repository
Facilitate the work in your business sector
KAMI e-publishing documentation
Our KAMI DOCUMENTS software gives you the ability to:
Perform an audit of your documentation to establish its complexity 
Automatically generate specifications from your documents to become more efficient during the development stage
Automatically generate data sets to arrive at the best method for your documentation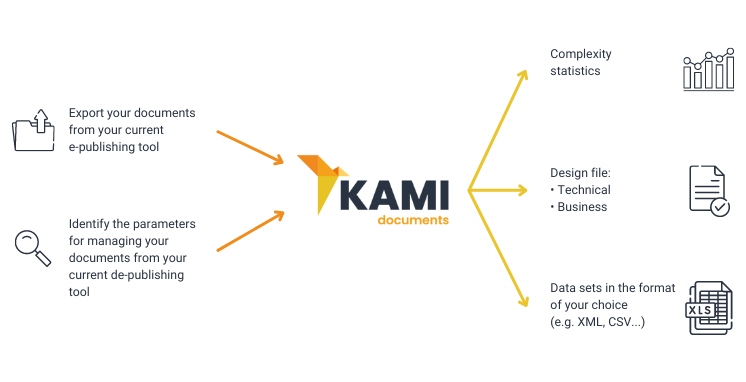 To automate the migration of your documents to a e-publishing tool:  KAMI UP
Has your e-publishing tool become obsolete and you need to migrate your documents to another tool on the market? Our KAMI UP software lets you migrate your documents semi-automatically.
The degree of automation will depend on the complexity of your document base (from 50% for a 'very complex' document to 100% for a 'simple' document).
To attach marketing messages to your e-publishing documents: KAMI OUTSIDE
Our KAMI OUTSIDE software gives business teams the freedom to write and target their marketing messages without needing their IT department. Once set up in the tool, these messages are inserted into output documents sent to customers.
KAMI OUTSIDE considerably reduces the time between production and publication of a message (from 3 weeks to 3 days, on average) to give you more flexibility in creating means of communication with your customers.

In order to best respond to your needs, a team of experts is at your disposal
Are you facing a specific problem in your e-publishing processes for your communication media? We have perfected our e-publishing solutions to become a market leader and meet recent web standards. Our teams can offer you customised software.